Self-Propelled Trolleys, Small Footprint, Large Capacity
The self propelled trolley consists of a front rotating traction car and a pair of fixed rear trolleys. It is designed to move heavy machinery easily and safely with the capability of rotating 360 under the machinery being moved. All the trolleys are safely controlled by remote control or auxiliary control with cable. It's small footprint is remarkable in relation to the weight capacity it can handle and it's maneuverability. When you look at the price you can not get a piece of equipment even close that can safely and easily move this much weight.
Advantages of OX Worldwide Self-Propelled Trolley


Small footprint meets great capacity
Capacities from 15-200 ton
Fixed rear trolleys, like a rear axle of a truck
Supports large loads with multiple wheels
Very low height
Move loads in a tight diameter, rotating plate with free rotation 360 degrees
Rotates under the machine being moved
Radio controlled or auxiliary control with cable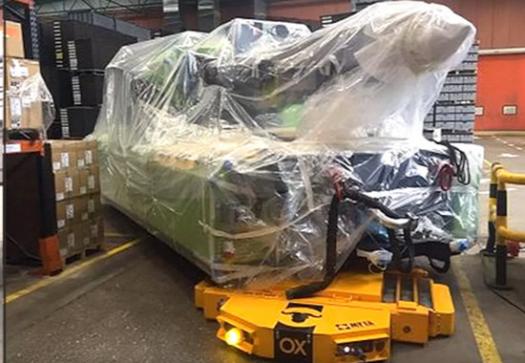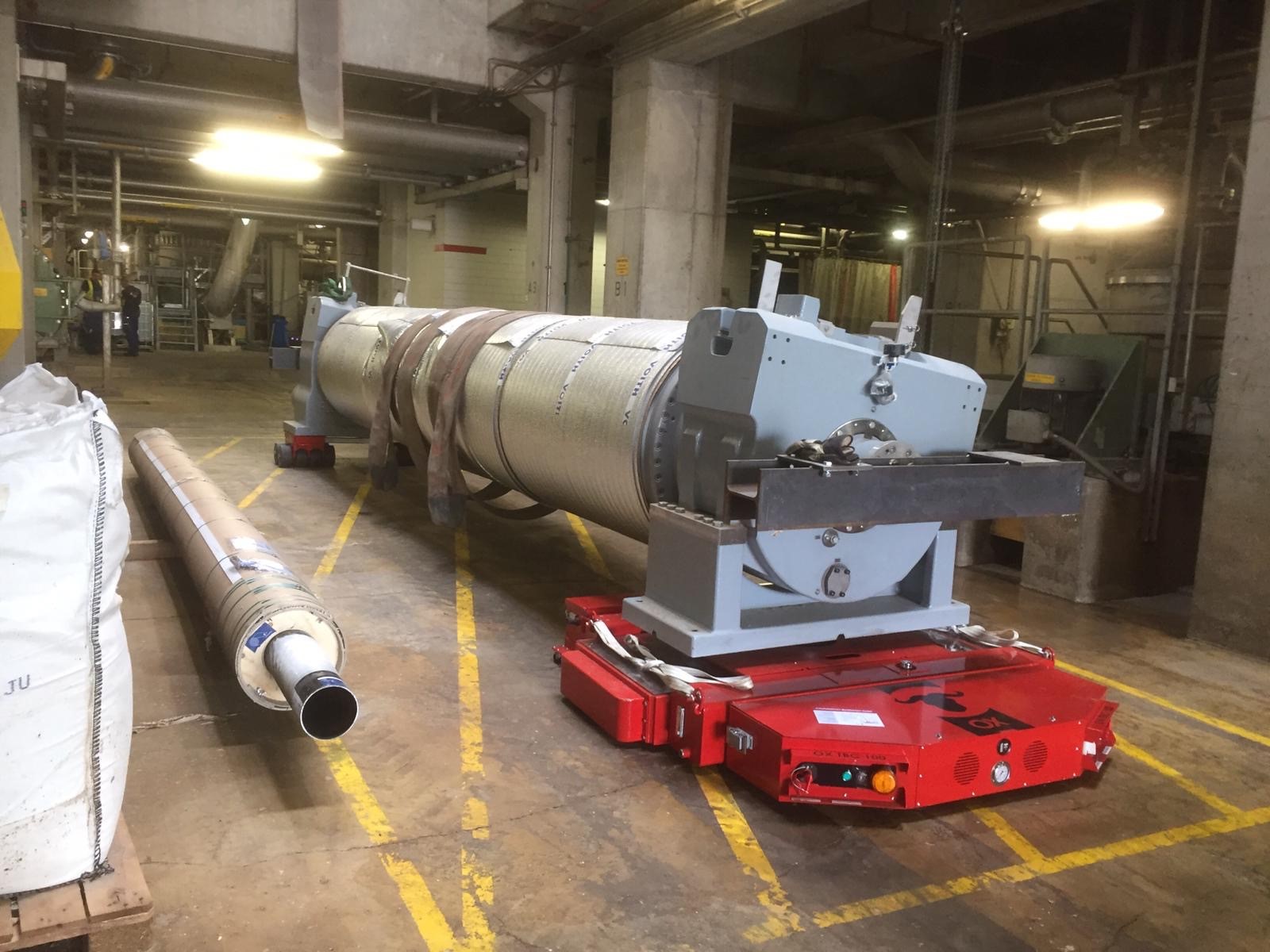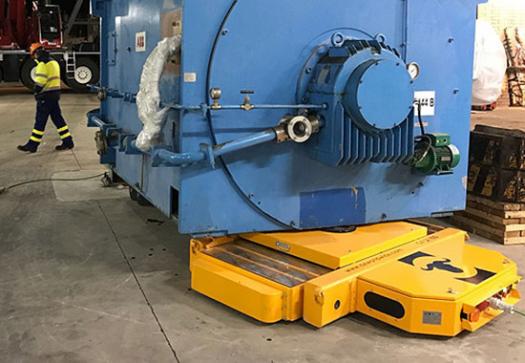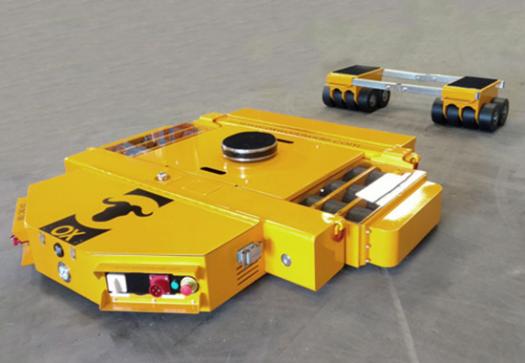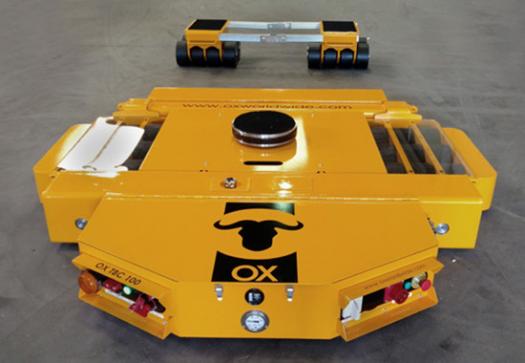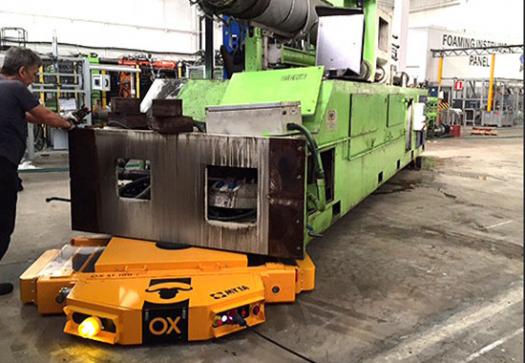 The Self-propelled trolley have a large load capacity from 30 to 200 Tons and a very low height (260 mm up to 450 mm), with the possibility of making complete turns of 360º designed to place them under any type of element and displacement, you can also use motor driven trolleys models with hydraulic lifting cylinder to load in cars or racks.
Motorized trolleys consist of two parts: a tractor and rear trucks that perform a function similar to that of the rear axle of a truck.
In Ox Worldwide from all over the world we have a wide range of self propelled trolley to solve all the needs of displacement of heavy loads. We can separate them into two basic categories: electric and hydraulic.
The trolleys are designed to work with three-phase powered; besides, we design also trolleys with lifting hydraulic cylinder.
NEW MODEL OX-ST SELF POWERED TROLLEY
NEW MODEL OX-TBC SELF POWERED TROLLEY

SELF PROPELLED TROLLEY MAIN FEATURES:
– Great maneuverability in small spaces.
– Suitable for rough, dusty and uneven surfaces.
– Remote control incorporated. Easy and intuitive to drive.
– Reduced and economic maintenance.
SELF PROPELLED TROLLEY TYPES:
OX-ST: Three-phase supply trolley.
OX-TBC: Three-phase supply, battery (1.5 hours autonomy) and load lifting cylinder trolley.
The self-propelled transfer car consist motor driven trolley and front rotating traction car (ST-TBC) of reduced dimensions (given the great capacity they have) and a pair of fixed rear trolleys (CT), that perform a function similar to that of the rear axle of a truck, carrying out the displacement and the maneuvers equivalent to this type of transport, but without limitation in the rotation of the tractor unit.

It supports large loads thanks to its multiple wheels of polyamide wheels and tight diameter, mounted on a tilting system (there is also the possibility of including some wheels of polyurethane to improve traction). It has a very low height because it is designed to be placed under any type of structure, machine or element and thus be able to move them, supported by the load on its rotating plate, with free rotation, which is coordinated with the couple of rear trolleys (CT) or of another type of rolling incorporated under load.
All the motorized trolleys are controlled by a radio control or an auxiliary control with cable (both supplied in all the trolleys). Its maximum speed is 5m / min, it is designed for flat use (no inclinations). But it could be used on ramps up to a maximum of 3 degrees (although the certification does not contemplate it and is under the responsibility of the customer, since they do not have brakes, only motor, and the capacity calculated is reduced by including inclination). In case of particular needs, default brake can be incorporated.
At Ox Worldwide we have 2 ranges, motorized propelled trolleys are available in two versions: OX-ST electric motorized trolley (three-phase electric) & OX-TBC (electro-hydraulic and batteries + lifting cylinder) to solve all the needs of moving heavy loads and we can also adjust them to the particular requirements of each application.
We are currently working on the fully electric OX-TBC version, with mixed power to the grid and batteries, and in a much more compact configuration. And for single speed or or various speeds, speed motor driven, single speed motor.
If you need more information do not hesitate to contact our technical and commercial team.
Contact us to set up a demo: